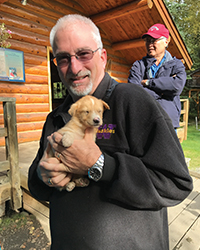 BOARD OF DIRECTORS: TREASURER
Alan Fingeroot
Bellevue, Washington
---
Alan joined the ULF in 1987 when his son, Andy, was diagnosed with suspected Canavan disease.
At a time when there was very little known about the disease, the ULF funded a doctor who led the research on a diagnosis for the disease. By 1987, that doctor had found a way to confirm the diagnosis and he went on to discover a carrier test.
Through the ULF's various support programs and educational conferences, Alan's family received much needed help. They attended the conferences for emotional support and received recommendations of agencies for assistance. They also were able to become more educated on Andy's care such as tube feeding and medications, and grief support.
Alan was elected to the board of directors around 1998 and was elected Treasurer in 2004.